On-Page SEO Techniques 2021 & SEO Checklist
On-Page SEO Techniques 2021 & SEO Checklist
On-Page SEO Techniques 2021. In this post, I am going to share with you the importance and primary techniques of On-Page SEO 2021.
Have you worked through the basics and are now looking for SEO techniques to help you to take your site's organic traffic to the next level as we head into 2021? When you first launch a site (or have just started to learn SEO), there's a whole host of basics that you need to have in place.
Below are the techniques that you should be paying attention to increase your site's organic traffic as we move into 2021. They're not the only SEO tactics you'll need to be using, but these techniques should form a core part of your strategy. By working to implement each of these, you'll be able to work on improving your visibility and traffic.
Importance of On-Page SEO
On Page SEO Techniques 2021. On-page SEO helps search engines analyze your website and the content connected to it so that it can identify if a searcher's query is relevant to your site. Google is constantly updating its algorithm so that it can better understand a searcher's intent and deliver search results that meet that user's needs. As Google's algorithm develops, so should your website.
13 Advanced On-Page SEO Techniques 2021
What's 2021 going to be like for SEO professionals? Check out 13 important trends you need to know by Manjeet Madhukar SEO expert.
1. Competitor Research & Analysis
See all your competitors' ranking pages alongside the traffic they receive, their traffic value, the top keyword each page ranks for, along with some additional stats.
See what types of content work best for your competitors.
Look at your competitors' content optimization strategies and tactics. For example, do they publish long-form content to target a bunch of related keywords, or do they create pages that focus on a single keyphrase?
Find out how SEO traffic is distributed in your industry. Do your competitors get the most traffic from tons of long-tails or a couple of good head keywords?
Here's a closer look at the metrics:
Organic Traffic — shows the overall amount of traffic a page receives from organic search. The table is arranged by default by this metric, so you see the page that gets the majority of traffic as the first result.
Traffic Value — the cost of the traffic received as if it was bought through the ads. The metric is calculated based on the following formula: Keyword Traffic * Keyword Cost per Click, for all the page's ranking keywords.
Keywords — shows the total of the page's ranking keywords.
Sites linking to the page — the number of domains that placed a backlink to the page.
Top Keyword — the keyword that brings the most traffic to the website.
Keyword Traffic — the total amount of traffic the top keyword brings to the page.
2. Keyword Research & Tools
Keyword research is the process of discovering words and phrases (aka "keywords") that people use in search engines, like Google, Bing, and YouTube.
Keyword research impacts every other SEO task that you perform, including finding content topics, on-page SEO, and content promotion.
The power of keyword research lies in better understanding your target market and how they are searching for your content, services, or products.
Read Also – HOW SEARCH ENGINE WORKS
Keyword research provides you with specific search data that can help you answer questions like:
What are people searching for?
How many people are searching for it?
In what format do they want that information?
Before we wrap everything up, let's look at a few popular keyword research tools that will help you do everything discussed above.
For its unique keyword suggestions and up-to-date CPC values.
For trend comparisons and researching the geography of trends.
For checking the top 1,000 keywords you already rank for and how much traffic those keywords send you.
For checking all the keywords you currently rank for, along with their estimated search volumes, Keyword Difficulty scores, traffic potential, and other useful SEO metrics.
3. High-Quality SEO Friendly Content
Optimizing for both search engines and users is one of the most important things you can do for your content.
However, creating SEO friendly content often requires time and efforts. But in the end, you can expect them to pay off – if you do it right.
Many people think that SEO-optimized content can't be user-friendly. This actually happens to be a total misconception because well-optimized, high-quality content essentially improves your chances of ranking higher in search results.
Read Also – 5 TIPS TO IMPROVE GOOGLE RANKING
In order to help you get your content ranking better in search engines, check out this set of SEO rules and tips that's I've collected in this article.
1. Carry out a keyword research
2. Structure your content
3. Write catchy titles
4. Write SEO friendly URLs
5. Use small paragraphs
6. Optimize the meta description
7. Optimize images
8. Add links that make sense
9. Use the optimal content length
10. Optimize your content for mobile
11. Update your content regularly
13. Include schema markup
4. Optimize Page Titles & Meta Descriptions
Page titles and meta descriptions are essential for search engines to ascertain what your website is offering for the indexing of the pages.
Consider adding unique, short, and descriptive titles for each page of the website.
Add keywords, numbers, power words, and avoid the domain name in the title.
Meta descriptions, on the other hand, are the 200-word introduction that uniquely summarises each page.
Make sure to add target keywords in these descriptions to make them relevant.
5. Have Short and Descriptive URLs
Which URL do you prefer?
yoursite.com/blog/archive/10/22/2018/this-the-seo-strategy-I-use-lol/page/1
yoursite.com/seo-strategy
yoursite.com/?p=345
I certainly hope you picked #2.
Note: On WordPress to change the default Permalink structure go to Settings > Permalinks. Then select "Post Name" as your permalink.
6. Take Advantage of the H1, H2, H3 Hierarchy
As we mentioned in tip #3, headers will help you win featured snippets.
Here's a quick run-through of each Heading tag's purpose:
H1 should be reserved exclusively for the title of your post. It is important that you check that your website structure (or WordPress theme) respects this. Please take a second to check that NOW.
You can use H2 tags for subheadings if you are writing a "6 steps" guide for instance. You can sprinkle your keyword in one or two H2 subheadings for an added SEO boost.
And finally H3, H4 for any additional sub-steps that your guide has. Tip: on WordPress, you can highlight some text then press Ctrl + Alt Option + 3 for an H3 tag for instance.
Don't forget to include an intro and a conclusion to tie it all together. But more importantly…
7. Internal Links
Search engine crawlers tend to follow each link mentioned on a webpage.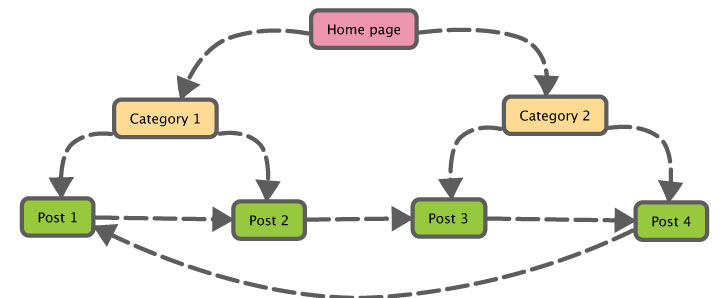 Adding internal links to the other pages of your website will help search engines discover each of them and determine which webpages are more valuable by checking the higher number of these internal links leading to them.
Linking different pages within your site also is a smart tactic that enables users to spend more time and raises the number of pages per visit on your website by visiting the various links.